We have the longest established league network in the UK with over 20 years experience in the 5&6 a side football business.
We have the largest league network in the world with thousands of teams playing at hundreds of partner facilities every week.
We have our own in house team of specialists in all aspects of the business such as social media, traditional media, search engine optimisation and team recruitment who will train and support you as you develop your business.
Below we tell you about more of the secret behind our success. 
FINANCE
A number of High Street banks recognise that lending to a Leisure Leagues partner is a safe investment due to our years of experience and successful business model and therefore approval is generally straightforward and quick. Usually, you will be eligible for an unsecured loan of up to 70% of your initial franchise fee. A government initiative which aims to help young people (18-30) start their own businesses is available. If you meet their criteria they will offer up to £25k without requiring a deposit. If you require any advice regarding funding for your franchise please don't hesitate to speak to us.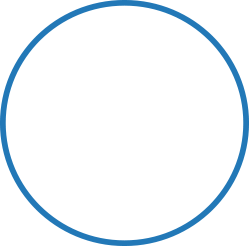 PARTNER TRAINING
Training takes place at our 10,000sq ft. offices set in rural Warwickshire. The training course covers all aspects of the small sided football leagues business including:
Recruiting new teams
Rules and regulations of small sided football
Developing new leagues
Managing a league
League administration
Discipline
Traditional media
Social media
Competition
We also take you to visit one of our leagues to see the theory put into practice.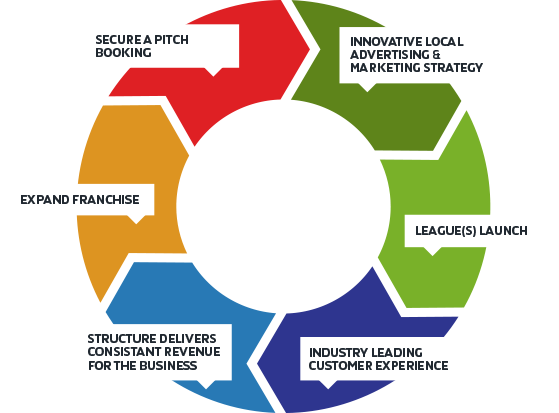 Ongoing Support
Even after you have completed your training we will continue to support you each and every step of the way.
A member of Head Office staff will be there to support you on the first night of your league and a dedicated Partner Account Manager will always be available to answer your questions, offer advice and guidance and support you to grow your business to its full potential. Our unparalleled experience running leagues means we
know the solutions to any problems you may encounter.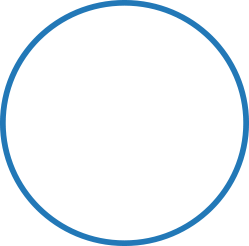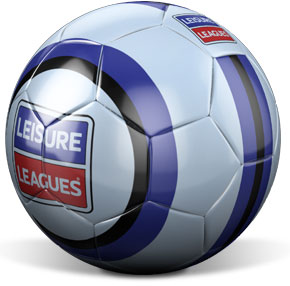 Partner Shop
All promotional material is available through our partner shop, where you can purchase anything from pop up banners to A5 leaflets and mobile phone cases. Our 8×2 banners are the most popular and as a Leisure Leagues Partner you will get exclusive access to 85% discount off the RRP, straight from our manufacturers in China.
At Leisure Leagues we supply the best equipment within the small-sided football league industry. We have some of the highest quality training cones, coloured bibs and 4 layered match balls on the market. Our balls are produced in the same factory in Pakistan as Nike footballs. The balls are match quality standard and are used by several semi-professional clubs around the country. These match balls are available to you with a massive 80% discount. Balls and bibs are fully branded to give the league that professional look. All of our equipment is imported from the Far East, therefore the savings we make are passed on to our partners, giving you access to China prices.
The equipment is stocked all year round and is available to order at any time from the partner shop.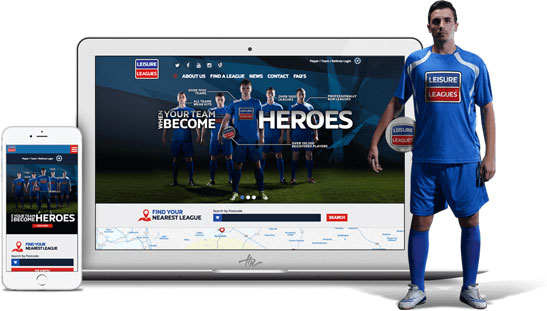 BRAND NEW WEBSITE
In 2016 Leisure Leagues launched its brand new interactive and industry leading website.
With over £3,000,000 spent building our innovative website, its new sleek design and user friendly interface, generates well over 4 million unique visitors each year all over the world. With over 90% of traffic coming via mobile interface, the website is specially designed to be compatible across all devices.
Teams now have a fully interactive experience, that gives them access to scores, fixtures and league tables within a matter of hours after playing in the league. Teams enjoy a fully customized team profile with personalized kit design and team/player profiles, where team members can upload their own photos.
With a new and improved sign up process, it is now easier than ever for teams to sign up in their local league. Once signed up, an instant notification will be sent to the relevant Partner so that teams are never missed. At no extra cost to you we are committed to spending £250k annually on website improvements – these improvements will directly benefit you, making your job easier with every update.
| | | | | | |
| --- | --- | --- | --- | --- | --- |
| Number of Teams | 1 | 12 | 24 | 48 | 96 |
| Income From Team Fees | £30 | £360 | £720 | £1,440 | £2,880 |
| Annual Income | £1,500 | £18,000 | £36,000 | £72,000 | £144,000 |
| Facility Cost Weekly | £7 | £85 | £170 | £340 | £680 |
| Referee Cost Weekly | £2.50 | £0 | £60 | £120 | £240 |
| Management Fee Weekly | £3 | £36 | £72 | £144 | £288 |
| Gross Profit Monthly | £70 | £956 | £1,672 | £3,344 | £6,688 |
| Annual Gross Profit | £875 | £11,950 | £20,900 | £41,800 | £83,600 |
| AVG. Hours Worked Per Week | NA | 4 | 5 | 12 | 24 |